Dear singers, dear instrumentalists!
For our side events and other Concerts we are looking for classical female and male voices who spread our thoughts on the subject of "peace". Our first top event will take place on October 2nd, 2015 on a splendid setting in the Salzburg Cathedral. We have already received first enquiries and we plan to realize this unique concert idea in more locations worldwide. Scheduled launch for additional concerts is January / February 2016. Therefore, we are currently searching for artists for any type of voice and instrumentalists who want to perform at the 'Opera Concert for Peace' worldwide. Artists will be paid and they get reimbursement for travel expenses.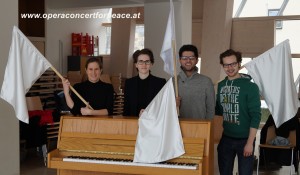 Profile requirements:
1.Trained singers with passion for team work;
2.Friendly, polite, having a gift for languages;
3.Readyness to live according to our principles on peace stated in the statutes .
4.Pre-concert promotion appearances for Opera Concert for Peace always with white flags.
Candidate should show no fear of public relations (press, photos, promotional meetings, brief public statements on the subject)
6.Previous photo presentation with white flag on our homepage.